1 box Betty Crocker SuperMoist French vanilla cake mix
1 cup water
1/3 cup butter, softened
3 eggs
1 cup prepared vanilla pudding
1 cup semisweet chocolate chips (6 oz)
3/4 cup whipping cream
Heat oven to 350 degrees F. Generously grease 48 mini muffin cups with shortening or cooking spray; lightly flour.

In a large bowl, stir together cake mix, water, butter and eggs until smooth. Divide batter evenly among muffin cups.

Bake 8 to 10 minutes or until tops of cupcakes spring back when touched lightly in center. Cool completely, at least 15 minutes. Remove cupcakes from pans to cooling racks.

Using sharp knife, cut top off each cupcake and reserve. Spoon 1 teaspoon pudding onto center of each cupcake bottom. Cover with cupcake tops.

In small microwavable bowl, microwave chocolate chips and whipping cream uncovered on High 30 to 60 seconds or until chips can be stirred smooth. Spoon chocolate mixture on top of each cupcake. Let stand until set. Store in refrigerator.

This post was featured here: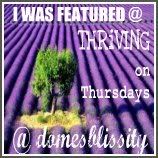 I linked this post to these wonderful parties: